Crystallized/Candy Edible Flowers: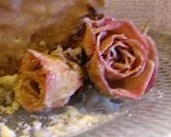 Candied flowers and petals can be used in a variety of imaginative ways – to decorate cakes large and small – all kinds of sweet things, such as ice cream, sherbet, cremes, fruit salads, and cocktails.
Ingredients:
1 egg white or powdered egg whites
Superfine granulated sugar (either purchased or made in a blender or food processor – just blend regular sugar until extra-fine)
Thin paintbrush Violets, pansies, Johnny-jump-ups, rose petals, lilac, borage, pea, pinks, scented geraniums, etc. Wire rack covered with wax paper
Directions:
Carefully clean and completely dry the flowers or petals.
Beat the egg white in the small bowl until slightly foamy, if necessary add a few drops of water to make the white easy to spread.
Paint each flower individually with beaten egg white using the small paintbrush.  When thoroughly coated with egg white, sprinkle with superfine sugar.
Place the coated flowers or petals on wax paper on a wire rack.  Let dry at room temperature (this could take 12 to 36 hours).  To test for dryness, check the base of the bloom and the heart of the flower to make sure they have no moisture.  Flowers are completely dry when stiff and brittle to the touch.
NOTE: To hasten drying, you may place the candied flowers in an oven with a pilot light overnight, or in an oven set at 150 degrees to 200 degrees F.  with the door ajar for a few hours.
Store the flowers in layers, separated by tissue paper, in an airtight container at room temperature until ready to use.
Garnishing Cheeses with Edible Flowers:
The cheese can be prepared 24 hours in advance of serving.  Use flat chunks of cheese, with edible rinds, in a variety of shapes. (Cheddar, Jack, Brie, or Camembert, in round, wedge, or square shapes).
Edible flowers or herbs
Cheese
2 cups dry white wine
1 envelope unflavored gelatin
Lay the flowers and herbs flat on top of the cheese in the presentation that you want to display.  Then remove the flowers and herbs, lay them aside in the pattern you want to display them.
In the medium size saucepan over medium heat, combine the white wine and gelatin.  Stir until gelatin is completely dissolved and the mixture is clear.  Remove from heat and put the saucepan in a larger container filled with ice.  Keep stirring as it thickens.  NOTE: Stir slowly so you don't create bubbles.  (If it gets too thick, you can reheat and repeat.)
Place the cheese in a dish to catch the drippings from your glaze.  Spoon the glaze over the cheese and spread evenly.  After a few minutes it will become tacky to the touch, then you can "paste" on your flowers in the design pattern you planned.
Refrigerate about 15 minutes; then remove from refrigerator and spoon more glaze over the flowers.
NOTE:  Make as many layers of glaze as necessary to cover your decorations – can be three layers for a thick design.  If the glaze thickens up too much, just reheat and replace in ice. Serve with crackers.
Making Flower Petal Tea: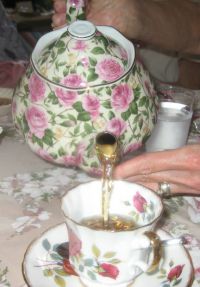 Ingredients:
2 cups fresh fragrant rose petals (about 15 large roses)*
3 cups distilled water Honey or granulated sugar to taste
* All roses that you intend to consume must be free of pesticides.  Do not eat flowers from florists, nurseries, or garden centers.  In many cases these flowers have been treated with pesticides not labeled for food crops.  The tastiest roses are usually the most fragrant.
Directions:
Clip and discard bitter white bases from the rose petals; rinse petals thoroughly and pat dry In a small saucepan over medium-high heat, place the prepared rose petals.
Cover with water and bring just to a simmer; let simmer for approximately 5 minutes, or until the petals become discolored (darkened).
Remove from heat and strain the hot rose petal liquid into teacups.  Add honey or sugar to taste.
Makes 4 servings.
Making Blossom Ice Cubes:
Gently rinse your pesticide-free flower blossoms.
Boil water for 2 minutes for all the air trapped in the water to escape. Remove from heat and let the water cool until room temperature.  NOTE: This will ensure that the ice cubes are crystal clear.
Place each blossom at the base of each individual compartment within an ice tray.  Fill each compartment half full with the cooled boiled water and freeze.
After the water is frozen solid, fill each ice cube compartment the rest of the way to the top with the remaining boiled water.  Freeze until ready to use.
Making Flower-Infused Syrup:
1 cup water (or rosewater)
3 cups granulated sugar
1/2 to 1 cup edible flower petals (whole or crushed)
In a saucepan over medium heat, add the water or rosewater, sugar, and edible flower petals; bring to a boil and let boil for approximately 10 minutes or until thickened into syrup.  Remove from heat.
Strain through cheesecloth into a clean glass jar.
Keeps up to 2 weeks in the refrigerator.
Can be added to sparkling water or champagne for a delicious beverage.  Or, it may be poured over fruit, pound cake or pancakes.
Makes about 2 to 3 cups syrup.
How To Make Flower Butter:
1/2 to 1 cup chopped fresh or dried petals
1 pound sweet unsalte butter, room temperature
Finely chop flower petals and mix into softened butter.  Allow the mixture to stand at room temperature overnight to allow the flavors to fuse. Chill for a couple of weeks or freeze for several months.
Thanks to - Whats Cooking America